VAESE statistics show how unlikely it is to succeed with a dues-paying alumni program, unless you're at a large, Power 5 conference school. Data shows why you shouldn't start your own dues-paying program, or why you should consider getting rid of yours, especially if you're not at a Power 5 school.
(About a 5 minute read)
---
Can your alumni organization be successful with a dues-paying program?
Should you start a dues-paying program at your institution?
A lot depends on
1- How you define success.
2- Whether or not your school's football team is frequently on national TV.
For the sake of our purposes here, I'll define a successful dues-paying alumni organization as 1) You have a self-sustaining dues-paying membership program, and 2) You can generate enough dues revenue to support other alumni programs.
While some may criticize my definition for being too narrow, or focused on ROI and business objectives, I get it. But humor me for a minute.
According to the VAESE study, dues paying alumni organizations are most successful at large institutions such as those associated with the Power 5 conferences. (Power 5 conferences schools comprise the ACC, Big Ten, Big 12 Pac 12 and SEC, plus big independents BYU, UMass, Army and Notre Dame).
For non-Power 5 conference schools, the successes are few and far between.
Here's what the data says about the differences between large schools with dues-paying programs, and all the others:
Dues-paying

Power 5 Schools

Dues-paying

Non-Power-5 Schools

% Difference

Avg. # of dues-paying members

120,139

20,325

496%

Avg. % of alumni paying dues

45%

14%

219%

Avg. member renewal rate

71%

43%

65%

Avg. DPM (Dollars per Member) (total budget ÷ total members )

$32.50

$21.99

48%
When we asked about membership trends, 70% of Power 5 schools report their membership rates are either growing or have remained stable.
But of the non-Power 5 schools, only 44% report their membership rates are growing or stable. Of greater concern is 47% report a drop in membership rates, and 9% who have no idea if their membership trends are up or down.
The most telling stat is the overall renewal rate. While every membership organization will differ, (based on things like their acquisition, retention and servicing costs,) the average alumni organization should reach a minimum overall renewal rate of 60% to sustain a membership base year-over-year. Power 5 schools average 71% renewal rate, the non-Power 5 schools are below the sustaining average at 43%.
Are you seeing a pattern here?
The bottom line is this: for most small to medium-sized alumni organizations, you're likely to have a difficult time year after year, seeing any return on investment for your dues-paying program.
Why Don't Dues Work at Non-Power 5 Schools?
Why do these larger organizations do so much better? Certainly a persistent national and local media presence plays some role in helping Power 5 schools sustain their membership rates. And you can't discount the powerful cultural connection many of these institutions enjoy in their respective communities. But what came first? Does size drive success, or success drive size?
I'll ignore the chicken and the egg argument for now, but it's interesting to see the overall differences in size, budget and staffing:
| | | | |
| --- | --- | --- | --- |
| | Power 5 Schools | Non-Power-5 Schools | % Difference |
| Avg. Total Alumni | 296,360 | 78,614 | 277% |
| Avg. Annual Budget | $3,904,412 | $447,034 | 773% |
| Avg. DPA (Dollars per alumni)(total alumni ÷ total budget ) | $13.17 | $5.69 | 132% |
| Avg. # Total Employees (FTE) | 28.02 | 7.9 | 255% |
| Avg. # Clerical/Administrative Employees (FTE) | 6.23 | 1.59 | 292% |
Not only do they have a significantly bigger pool of alumni, but their average budgets are massive by comparison. Which accounts for more FTEs involved in all aspects of running their programs.
But if you're a little envious of these larger alumni organizations, remember this: just as wins can boost membership rates, so too will losing negatively affect membership. In many ways, large alumni organizations can be at the mercy of forces well beyond their control. But generally speaking, most have figured out how to adapt, and are experts at engaging their alumni through their dues-paying organization, and they do it very well!
If you are not the size of a Power 5 school and have a successful, self-sustaining membership program. I stand and applaud you. Your success is outside the statistical norm.
Should you start a dues program?
If your institution is considering a dues program and you're similar in size and exposure to a Power 5 school, here's my recommendation. Be very careful. Make sure you understand all the alternatives and long term ramifications, especially as younger alumni are less inclined to join any type of member organization.
If you're institution is leaning toward starting a dues program and you're NOT similar in size and exposure to a Power 5 school, here's my recommendation. Don't do it! In fact, run away!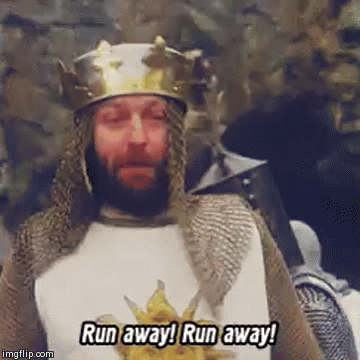 Why?
Because there are better ways to attract and engage your alumni without creating a two tier system of favored and less favored alumni; first class and second class alumni.
Alumni can give to their alma mater with time, talents and money. A dues program tends to diminish contributions of time and talents in favor of cash only, which isn't a very good long-term engagement strategy, IMNSHO.
And I know that at some institutions, dues-payers give at higher rates than non-dues payers. But I'm still not convinced that the act of paying dues is the cause of higher giving rates. At least I haven't seen data confirming that the phenomenon universally applies to other institutions, especially a non-Power 5 school.
Here are some other issues you should consider:
74% of all alumni organizations report to being a non-dues-paying model. Of all alumni organizations that report to having studied the pros and cons of a dues-paying model in the past five years, only 4.3% have approved and implemented a dues-paying program. (Are you confident your institution is vastly different than the majority of institutions who have studied and rejected a dues-paying model?)
69% of alumni associations cite their biggest challenge to growing their membership relates to the lack of value or compelling member benefits. (See our article about lame alumni benefits and not lame benefits. Are you prepared to offer benefits that can attract and engage alumni?)
Dues-paying organizations have a 33% higher opt-out rate than non-dues paying organizations, and are 63% more likely to have alumni opt-out rates 30% or higher (The average opt-out rate is 10.3% overall, and the increased number of membership solicitations may be a reason for the higher number of opt-outs).
For Power 5 conference schools, the overall new member renewal rate is 43%. The average renewal rate for non-Power 5 schools is 17%. (New graduate renewals should not be relied on as a significant revenue source for your program?)
33% of alumni organizations have half their alumni living in a different state/province than the main campus. (Are you prepared to offer alumni benefits that are relevant to alumni living anywhere nationwide, and not just near campus?)
Any membership organization must contact a member 15 times during a year in order to see overall member renewal rates increase year-over-year. (Have you considered the need for increased communications with alumni? Do you have the capacity to communicate with alumni with greater frequency?)
The average length of a dues-paying member is 5.9 years before lapsing for good. (Do you have a strategy to replace your members every six years? Are you prepared to spend up to 80% of your association's annual budget on member acquisition?)
How to transition away from a dues program
Another important issue is: What if you decide to end your dues paying program? How do you transition away from a dues paying organization?
Many organizations have significant issues trying to phase out their dues-paying program. Among the thorniest issues are what do you do for "lifetime members" who were promised a lifetime of association benefits, but now face the prospect of being left with little or nothing? While some have eliminated their dues program successfully with little resistance from alumni, the risk of alumni pushback always looms.
Which is why many schools have stuck with their dues-paying program, although they've looked for ways to end it, yet they haven't found a way to do it, yet still save face.
These are just of the few of the issues you'll face if you're thinking about starting a dues paying program.
Are you a non-Power 5 school with a successful dues-paying program?
If so, what's your experience?
What advice can you share with others?
Has your institution successfully transitioned away from a dues paying program?
What would you say to those who may be considering launching a dues-paying program, or are trying to end one?
I'd love to hear about your experiences.