As a follow-up to our popular article 7 Lamest Alumni Benefits, new analysis shows the most popular and least popular benefits by category, and why many benefits have dwindled in effectiveness over time. Offering outdated alumni benefits can reflect poorly on your organization, and may be a reason why alumni are not engaged.
(About a 6 minute read)
---
The 80s called and want their alumni benefits back.
Is your institution offering benefits better suited for the days of shoulder pads and big hair? Some alumni organizations cling to their outdated benefits like David Hasselhoff clings to his mullet.
What's an outdated benefit and what's not? I'll give the specifics in a moment, but first, it's important to know how we came to our conclusions.
In our most recent VAESE survey, we asked alumni professionals to rate the popularity of the alumni programs and the benefits they offer. We then clustered these programs and benefits by category and ranked them by popularity. (See page 44 of the VAESE survey here.)
To arrive at an updated comparative metric, we subtracted the negative ratings from the positive ratings. Here are the results showing some clear winners and losers.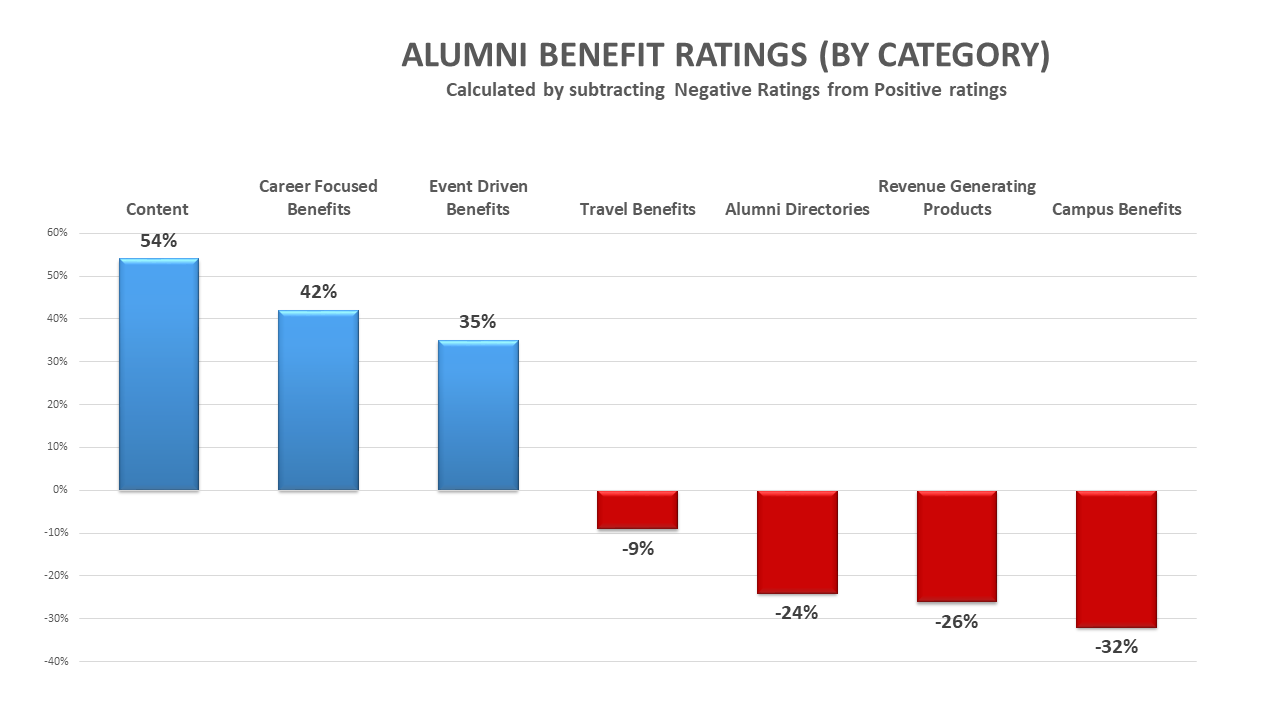 We define each category as follows and rank them by popularity:
#1 : Content: Original and curated articles, videos, podcasts, webinars, etc., delivered digitally (email/web/social media) or in print (when it's relevant.)
#2: Career Focus Benefits: In-person networking and all other career-related services
#3: Event-Driven Benefits:, reunions, chapter, club, and recognition events, etc.
#4: Travel Benefits: Vendor-operated or custom travel programs
#5: Alumni Directories: Online communities and printed directories
#6: Revenue Generating Products: Insurance, financial, and other products/services
#7:Campus Benefits: Access to library/gym, bookstore discounts, seminars/lifelong ed. lifetime email, etc.
Our Methods: A Caveat
This research compiles responses from alumni relations professionals (over 500 respondent institutions in all), from all sizes and types of alumni organizations. Large alumni organizations, for example, rate their programs and benefits much differently than smaller organizations.
However, these are quantitative results, not qualitative. We did not ask about programs and that may work well to attract a targeted audience. By that I mean some programs may not be widely popular but can attract alumni that have a greater capacity to give of their time, talents, and treasure. We are only measuring the popularity of programs and benefits based on their capacity to attract the largest audience.
The 5 Elements of an Engaging Alumni Benefit or Program
What criteria should be used to identify an engaging alumni benefit? I've listed this criterion previously, (See the 7 Lamest Alumni Benefits, and the 3 Highest Rated (Not Lame) Alumni Benefits.) But for the sake of expediency, I will list again the 5 Key Elements necessary for an engaging alumni benefit or program:
It solves a difficult or frequent problem for your alumni.
It delivers compelling value.
It is within close proximity to where alumni live and work (physically or digitally).
It is easy and convenient to use.
It's unique or exclusive to your organization/institution, and not available to the general public.
#1 Category: Content
What is content? Content consists of original or curated articles, news, blogs, video, podcasts, webinars, etc., delivered digitally (email/web/social media, etc.) or in some cases, print.
First, let me whine a little about how much I dislike the word "content." It implies a cold, lifeless asset lacking in influence, creativity, or imagination. Just filler or stuffing. But unfortunately, no other term has come along to replace this hideous word, so I suppose we're stuck with it for now.
For your alumni to get value from your content, it must be stimulating, enlightening, or entertaining. Good content is not a filler, but strategically and skillfully planned and executed.
So, why bother with content creation?
Let's start with how well it engages GOLDS, new grads, and millennials, (or whatever you want to label them). Nothing can drive their engagement and loyalty like good content.
For example:
The problem is that most alumni offices aren't structured to be content creators. We hire generalists who can plan reunions, organize networking events, coordinate mentoring, and plan alumni trips and career services programs, among many other responsibilities. We hire based on the skills necessary to execute legacy programming needs. It's not often practical to hire specialists with persuasive writing, video production or social media skills.
Most content creation has been the domain of the university relations/marketing or similar department. However, their focus is not specifically to engage alumni but to craft and maintain the institution's brand and narrative for a much broader audience.
How to Start Offering More Content
Many alumni organizations are figuring out how to use content to engage. They are beginning to hire content creators. They are also training existing employees to start a blog, or write compelling articles, and otherwise encouraging staff to take an increased role in maintaining the organization's presence on social media.
I've heard examples where alumni organizations are launching their content efforts by posting pictures from old yearbooks. Some schools make it a contest to see which graduation year can generate the most reposts or reshare of a photo. The winner is rewarded with a week's worth of photos from their year.
Other schools are hiring vendors like Cerkl to create automated personalized content. (BTW, I have no connection with or personal interest in Cerkl, nor do I have anything to gain from this mention. While I haven't used Cerkl's platform, I've seen other platforms with less functionality that were quite effective.)
Content Satisfied All Five Criteria of an Engaging Benefit
As it relates to our five criteria for engagement, content can solve a significant problem for alumni who dislike hearing from their alma mater only when being asked for money. Alumni want to feel good about their alma mater, but many schools make it too difficult because they are ceaselessly soliciting alumni without giving anything of value in return. Providing entertaining, educational, and compelling content gives alumni a good reason to like their alma mater and stay connected.
Compelling content delivers value when it provides info like career/networking guidance, or exclusive alumni discounts. Content is within digital proximity to nearly all your alumni, is easy and convenient to consume, and is frequently exclusive to your institution.
If done right, content can meet all these elements of an effective benefit.
#2 Category: Career-Focused Benefits: These programs include in-person networking events, career-focused online networking such as LinkedIn, mentoring, internships, and all other traditional career-related services.
In the new digital world of alumni relations, the popularity of career services has led many organizations to consider increasing the level of career services they offer. Our study shows 52% of institutions have studied the pros and cons of increasing the level of career service they offer. That number jumps to 72% for larger institutions (with 100k alumni or more).
Additionally, 24% of alumni organizations have approved integration or completed integration of their alumni relations and career services offices; another 18% are still considering integration.
Why are career services so popular among alumni? Because it solves a significant problem, especially for alumni who want to advance their careers. They expect their alma mater to provide material assistance, advice, and resources to help them find their next job. For organizations that understand the impact they can have on their alumni with meaningful career services, they can deliver compelling value.
As digital delivery improves, the need to come to campus to leverage these services helps overcome the issues of proximity, ease, and convenience. Finally, the services are not available to the general public, making career services in alumni relations a no-brainer.
The Bottom 2 Alumni Benefit Categories:
When I talk about benefits stuck in the 80s, the following two categories are mostly what I'm referring to.
Campus-related benefits are remnants of a bygone era where online engagement didn't exist, and the campus was the primary focus of alumni engagement.
Revenue generating programs. While revenue programs still have a place in today's alumni relations, without genuine transparency about the revenue-sharing arrangements, they are little more than 80's era money-makers disguised as benefits. When your organization is the primary beneficiary, it should come as no surprise that alumni aren't engaged in significant numbers.
Last place Category: Campus-related benefits are the least popular overall. They include a bookstore, library, gym, access or discounts etc.; and also campus workshops, seminars, and other on-campus, in-person programs, but exclude reunions and major events.
Campus-related benefits have been a mainstay of alumni benefits since time immemorial, (even before the 1980s.) And while some alumni living near your campus may enjoy these campus benefits, how easy is it for all other alumni to come to campus, especially if they live in another city or state?
For most institutions, your alumni want to avoid coming to campus, mostly because it's inconvenient. We now have data to support what we've known instinctively: we typically will not travel more than absolutely necessary for our everyday needs and wants.
This recent study reveals 92% of us will typically drive no more than 10 minutes for our everyday transactions, such as groceries, fuel, entertainment, dining, events, etc. We may go as much as 20 minutes for infrequent purchases like clothing, oil changes, movies or fine dining, but rarely more than that.
What it means to alumni organizations is this: If they don't live within 15-20 minutes of campus, most alumni won't endure the hassle of coming to campus.
Now some may say "alumni love coming to our tailgates and events at football/basketball games." Then great! Consider yourself fortunate that some of your alumni see enough value in such events to make it worth the effort to come to campus. But as a general rule, most on-campus programs are likely to have disappointing attendance and little effect on engagement.
Second to Last Place Category: Revenue Generating programs I call these faux benefits. They usually don't offer compelling value, but because they generate revenue for your organization, they are heavily promoted and high profile.
Some revenue-generating programs have the potential to be effective engagement tools if they can meet the above elements of an effective benefit. Unfortunately, many of the revenue-generating products like insurance and banking services don't solve a pressing problem for alumni, and they lack value, convenience and ease.
More important, one of the biggest reasons they lack value is that you're not giving your alumni the entire cut of the available revenue the vendor is offering. When it comes to discounts on insurance, for example, if the vendor has a total of a 20% discount to offer, and your organization keeps a 10% cut and leaves your alumni with a 10% discount, you end up with a ho-hum discount that isn't compelling enough to attract and engage your alumni.
Discounts can be powerful tools because everyone wants to save money. But be careful of agreements where your alumni don't get a memorable discount.
Benefits in the Middle
Benefits landing in the middle (Event Driven Benefits, Travel Programs, and Alumni Directories) have mixed success. For example, the most engaging travel programs have a campus connection, such as when a professor leads the trip. Vendor-led trips score lowest, especially for smaller schools that must share trips with other schools.
I'm not saying they are meaningless, but they have less overall appeal when we ask alumni professionals hailing from institutions of all types and sizes. Events can do very well at some institutions, but not so well at others.
So my fellow alumni/advancement professionals, do these results reflect the popularity of your benefits and programs at your institution?
I'd like to hear from you.