Alumni discount programs are a "top of funnel" engagement program to grab the attention of less engaged and/or reluctant alumni. But not all turn-key programs are as effective as they promise. Here are 20 of the most important elements to look for in an effective (and compelling) discount program.
About a 5 minute read
Why are more and more alumni organizations (dues-paying as well as non dues-paying) offering their alums a private discount program as part of their suite of benefits?
Because if it's done right, compelling consumer discounts can be a powerful way to attract, engage and energize your alumni to get involved with their alma mater.
The rule of reciprocity suggests that people are far more likely to engage with an organization, if they are first offered something of significant value. Once you have attracted them to engage with your discount program, you'll be far more capable of keeping them engaged once you get them "through the door" with your discount program.
That's what thousands of organizations are doing now with great success, including non-profit groups, employee groups, employers, unions and trade associations. And it's all aimed at boosting member acquisition, retention and engagement.
But not all discount programs actually work. Some may claim to have what it takes to be a compelling alumni benefit, but they lack some important elements.
That's why it's so important to know how to differentiate between discount programs that truly engage, and those that just say they do.
If your organization is considering an alumni discount program, consider how it delivers on each of these key elements:
1. Is it a Closed (Password Protected) Discount Network?
Merchants reserve their best discounts for closed networks where they can control the exposure of their discounts behind a password protected wall. Discounts offered to the general public are usually not compelling, and aren't typically a retailer's best discount. Closed discount networks allow merchants to expose their best discounts to a targeted audience.
Without that level of security, your discount network will likely scare away many popular merchants.
2. Does a significant percentage of their revenue come from online transactions, insurance sales and other sources?
Some discount platforms don't want you to know that their "free" or "nearly free" discount program has some hidden costs. Their business model shifts the cost burden of your so-called benefits program to the backs of your alumni. Frequently, it's because they have obtained their discounts from sophisticated affiliate marketing programs via an online affiliate network.
Consequently, these "free" programs don't provide many (if any) of the most popular in-store discount offers because they can't make money off them like they can an online transaction. Programs that offer mostly online discounts are frequently ignored by members because they lack value.
3. Is your organization's branding front and center?
A major benefit of alumni discount programs are the regular, positive interactions your audience associates with your organization. As such, a discount program should provide the ability to private label the program on your organization's behalf. So when alumni save, it's your organization that benefits from the boost in awareness and goodwill.
Alternatively, some program providers just promote themselves throughout their web properties and apps. Don't settle for that.
4. Do the majority of their discounts consist of in-store offers at a brick & mortar storefront?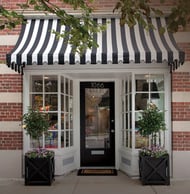 Although online spending is growing, still 90% of all retail purchases are made in-store. If the discount program consists mostly of online discounts, then your discount program won't have enough relevance to keep your alumni's attention. In-store offers are where consumers spend, yet most discount programs don't have local, in-store offers because they are expensive to acquire and maintain. Always ask your discount program what percentage of their discounts are from a local brick-and-mortar store where the offers are redeemed at a cash register.
5. Are the discounts in close proximity to where your alumni live and work?
This research shows how the average consumer travels just 15-20 minutes for most of their everyday purchases. The more frequent the purchase, the less willing they are to travel. Consumers will typically travel less than 8 minutes for gas or groceries, but may travel 15-20 minutes for other, less frequent purchases like a nice restaurant, a movie, auto services or apparel. If the discounts aren't near where your alumni live and work, they are unlikely to engage. And to do that, it takes a truly nationwide network with discounts in urban, suburban and rural communities.
6. Are the discounts easy and convenient to redeem?
Consumers demand ease and convenience from the merchants they patronize. That's why each offer must be easy to redeem, such as showing a coupon or a mobile phone at the point of sale. When your alums faces multiple steps to redeem an offer, or must wade through a flood of terms and conditions, redemption will be frustrating and lose their practical value.
7. What percentage of merchant offers are negotiated directly with merchants, and what percentage are obtained from a third party source?
If the discount network has direct relationships with merchants, they typically get the deepest discounts. If the discount platform uses a third party, those discounts are typically weak, modest discounts. Such discounts are not compelling enough to attract and keep your alums engaged.
8. Are the discounts unique or exclusive, or are they available to the general public?
The scarcity principle hearkens back to the economic fundamentals of supply and demand: the more exceptional or exclusive an opportunity, the more valuable it is perceived. When discounts are offered to the general public, they have little or no lasting appeal. But unique or "members only" discounts are generally considered more valuable, and are a powerful tool to attract your audience. Ask your provider if their discounts are open to the general public or not.
9. Do they offer the types of merchants where consumers make everyday purchases?
A compelling discount program must deliver discounts at places where your members like to shop, and on the things they already purchase. That includes fast food, pizza, casual dining, popular apparel and accessories, electronics, movie tickets, auto care, cell phone plans, etc. Discounts on everyday items like these should comprise the majority of discounts on your program.
It's okay to have a few merchants like day-spas and Jiu Jitsu classes, but because the usage of these offers is so infrequent, they should consist of less than 1% of your network. These deals won't inspire your alumni to use your discount program regularly.
10. How deep are the discounts?
It goes without saying that people want deep discounts and freebies. And while not every merchant is willing or able to offer a 50% off or BOGO offer, the best discount programs will offer very few ho-hum 5%-15% off deals. The deeper the discount, the more excited alumni will be to use the discount program on a regular basis. Look for programs where the average discount across all discount categories exceeds 25%-40%. Anything less than that is unlikely to inspire member engagement.
11. Do they manage your alumni data securely and confidentially?
All discount programs require the sharing of some member data just to verify and validate membership in your discount program. Most will need a name and an email address at a minimum. Some programs may have secure credit card capability to allow for online purchases of things like movie or theme park tickets. Protecting this vital information is of the utmost importance to your organization.
Be wary of discount programs that give away their discounts in order to get at your data for marketing purposes. Look for discount programs with a history of success in managing complex security demands, like those that have large corporate clients with sophisticated data security procedures and protocols. If a billion dollar company is willing to trust their data with your discount network, you'll know you're organization is in good company.
12. Do they offer instantly redeemed mobile coupons?
91% of college graduates own a smartphone. The fastest growing segment of coupon usage is from a mobile device redeemed in-store. The key here is redeemable in-store. At a cash register. On the spot. In contrast, some "mobile coupons" are really just an upsell to purchase a companion coupon booklet, or print the coupon at home. Make sure mobile coupons can be redeemed simply by showing the mobile device at the point of sale.
13. Do they offer travel and other big ticket items?
Everyday relevance is important, but look for a discount network with deep discounts on large purchases too. Discounts at major theme parks are increasingly hard to find, but some discount networks are large and powerful enough to negotiate discounts at places like DisneyWorld® and Disneyland® Resort, etc.
Discounts on hotels and car rentals are also popular, but only if those discounts are better than the online travel booking engines. In addition to travel, look for discounts on new cars, auto repair, home and garden items, etc. All are all essential to a robust discount program, and a great way to instantly prove the quality of your discount program to your members.
14. Do they offer a merchant compliance program?
If one of your alums has a coupon rejected while at the front of a busy line or in the company of friends, it's embarrassing enough to keep them from ever using the discount program again. It's critical that merchants accept every coupon from your discount program. But sometimes businesses change ownership, or the teenager at the counter hasn't been sufficiently trained about which coupons are legitimate or not. Ensuring compliance requires a good relationship between the discount program and the merchant. Without a direct relationship, members risk having a bad experience when they go to redeem a coupon.
One way a discount program enforces compliance is by using serialized (one-time use) barcodes. These codes are scanned or manually entered into the cash register so the discount is instantly and reliably applied.
15. Do they offer marketing and promotional services?
How will your alums learn about new and relevant offers? Your staff should NOT have to create and execute a marketing strategy all on its own. Quality discount programs promote the network to alumni on your behalf (with your approval, of course) through email, social media, printed materials, and more. Ongoing education is vital, as it can take time to get alumni in the habit of saving.
Push for high standards in this area, as there is a direct correlation between promotion and usage. The better the provider is at communicating relevant messages, the more your alumni will use the program.
16. Do they offer high-touch, tailored customer support?
Consumers sometimes need a little hand-holding with even the best discount programs. Maybe they need help downloading the mobile app, or an older alum wants some help finding a specific restaurant for the discount network? Who should they contact? Most alumni organizations are already short staffed, and don't have the resources to take those calls. A quality discount program will provide support for your alumni as part of their program offering. Look for seamless methods to handle issues, including call centers, email, and real-time chat.
17. Do they want to be a partner or just a vendor?
A successful discount program takes more than set it and forget it. Find a provider who's willing to act as a partner. One who is just as invested in the success of the program as you are. Work with that partner to create a great launch effort, set goals, monitor and adjust key performance indicators, and change the program as necessary. Whether you're having monthly or quarterly calls, you should be able to trust that your partner is working behind the scenes to make your discount program perform as well as possible.
18. Do their offers require a purchase of a certificate, or other multiple step redemption process?
Ease of redemption is a key factor to a successful discount program. When a discount is confusing to redeem, it's a forgettable experience that few member will want to use. Some dining deal programs, for example, require the purchase of a coupon/certificate, but redemption is both difficult, takes time, and is usually disappointing. Look for a discount program that has instantly redeemed coupons.
19. Do you they charge merchants to join your discount network?
Aside from making money from online transactions, other discount networks will charge merchants to join their network, using your organization's name as leverage. While it's important for discount networks to build their discount network for your members, the big difference is in how it's done. Free programs will accept any merchant, often focusing on small, independent merchants such as massage therapists, lawyers or multi-level marketers who have a very narrow audience and limited popularity. See examples of this practice here.
20. Do they have only one-off, daily deals, or do they have evergreen offers?
As opposed to daily deals, evergreen offers have no looming expiration date. Evergreen offers are a win for consumers, as the deals are available when the member has the greatest need, not merely when the merchant is trying to clear out unwanted inventory.
Choose Wisely
The key to selecting an effective discount program is to consider the factors other than whether or not it's free. Free discount programs may tout themselves as having great appeal, but if you dig a little deeper, you'll know their true costs in terms of engagement, trust and loyalty.
Make sure the discount program you select possesses each of the key elements previously mentioned. By doing so, your program will have the engaging power you expect, and drive ongoing loyalty for years rather than just weeks..