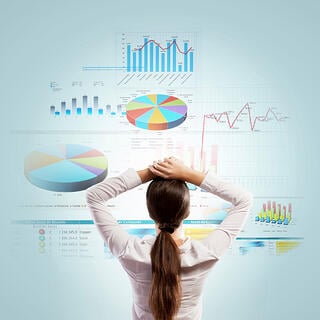 (First in a series)
After updating our popular alumni engagement, giving and membership stats page, we dig in to the data and highlight six important trends that alumni/advancement professionals should not ignore.
About a 3 minute read
We recently updated our popular stats page: The Ultimate Collection of Statistics for Alumni Engagement, Giving and Membership.
If you're a stats geek like me, you'll be happy to know we've added 28% more juicy stats and other relevant content to this site.
These are the latest and greatest in alumni/advancement statistics curated from around the web. It has become a popular site for thousands of alumni relations professionals who use this resource for research, presentations, articles, and to influence their programming decisions.
But for busy people slammed with the upcoming reunion, homecoming gala, or publishing the next email, it's hard to look at all these stats, and identify which stats are most relevant to your organization.
So, from all the new stats we've added, here are a few trends to keep an eye on:
#1 - Paid Digital Marketing is Coming
17% of membership organizations now use paid digital marketing to acquire new members/constituents (i.e. Facebook ads, AdRoll, Google ads, etc.) (source)
Just three years ago, paid digital advertising was not even mentioned among those responsible for marketing a membership/constituent based organization. Although this seems like a small number, the rapidly increasing percentage clearly shows a growing trend among membership marketers.
If you don't know, or would like to learn more about PPC (pay-per-click), SEO (search engine optimization), display and search advertising, analytics, etc, check out this page here for free courses:
This trend underscores the importance of keeping up on all the available tools you can use to attract and engage your alumni.
#2 – SMS Text Messaging is Popular with Alumni
37% of members prefer accessing program information via a periodic text message
28% said a mobile app (also see #3 below)
19% prefer desktop/laptop via website (source)
The growth and popularity of SMS texting isn't surprising. But what IS surprising to me is how many people want to get periodic text messages from an affinity organization like their alma mater.
This trend presents an interesting challenge for alumni organizations, especially among many who struggle to keep their database up to date with things like preferred email addresses. Maintaining data on mobile phone numbers and SMS text preferences will be an additional challenge. And don't think you can just start sending texts without paying attention to the additional restrictions and penalties for violating the Telephone Consumer Protection Act (TCPA). Despite the sometimes onerous rules, the trends point to a growing number of alumni who will welcome relevant text messages from their alma mater. Now is the time to build your infrastructure, if you haven't done so already.
#3- Alumni Want a Mobile App
100% of Americans between the ages of 18-29 own a mobile device.
98% of Americans between the ages of 30-49 own a

mobile device

.
91%

of college graduates own a smartphone.

(source)
If you want to engage your alumni, then your marketing and engagement efforts would be more effective if you included a mobile app. Alumni mobile engagement apps are limited in number, but some good ones do exist. But make sure you find one that has near universal appeal, adds real and relevant value to your alumni, and gives them a compelling reason to keep coming back. Apps that are internally focused (on your institution) will be mostly ignored, especially by all those alumni who are not within proximity to campus.
The trends will continue to point to the need for alumni organizations to find a mobile engagement solution.
#4- Social Media Engagement is Growing
70% of organizations saw an increase in participation in their public social network last year (source)
For alumni organizations, an active social media presence is no longer an option. You NEED to be active on social media. If you're saying, "we're short-staffed, we don't have the people," then solicit some alumni volunteers to help you boost your presence. You may need to consider getting rid of programs that attract smaller audiences, and refocus those resources on building your social media presence.
#5- Facebook is Still King
Despite predictions about the demise of Facebook, it remains the largest social media network and is still a powerful tool to engage alumni. Your alumni are using it on average 20 minutes per day, and three out of four female alumni are checking out their FB page on a regular basis. That's a significant number of alumni, and if you're not posting regularly with entertaining and informative content, you're missing out. (Check out our recent article: 34 Inexpensive Alumni Engagement Ideas, which includes ways to offer compelling FB content)
#6- Social Media Becoming More Fractionalized
Again, having a robust social media presence has become an imperative, but the platforms to use is becoming a more difficult task.
Just like in the days of early television, choices were limited to only three major networks. With so few options, it was easy to market to a large audience. But before long, fractionalization occurred, and cable networks popped up like MTV, CNN, and the Food Network, etc., making it harder for marketers to pick one network to reach a broad audience.
The same is happening in social media and it's occurring rapidly. Niche platforms will attract audiences based on specific platform features, resulting in a smaller and narrower audience. You'll have to study which platforms make the most sense for you, but clearly, alumni organizations will have to deal with more social media platforms in the future, not less.