The two most popular and two least popular career services benefits are identified according to VAESE survey results of alumni/advancement professionals. Solutions are offered to improve your existing career services benefits.
About a 5 minute read
The VAESE Alumni Relations Benchmarking Study asked alumni professionals about the popularity of the career services benefits they offer their alumni.
But because each institution differs philosophically and organizationally with how they deliver career services programs, we can only measure the popularity of these benefits based on the assessment of each institution's alumni staff.
Career services at some institutions focus solely on students and exclude alumni, others may emphasize student participation and permit alumni to utilize selected services. On the other end of the spectrum we see an increasing number of alumni organizations that are now fully integrated with career services.
While the results of the data may vary in its usefulness depending on the size of your organization (based on staff size and the total number of addressable alumni,) it's pretty clear that for most alumni organizations, there are clear winners and losers when it comes to career services.
Let's start with the losers.
The Biggest Loser: Test Prep
Test preparations services are not always served up to alumni as a career services benefit. Our study showed that roughly two-thirds of alumni organizations are offering test preparation or discounts on a test prep service as a career services benefit.
Of those offering it, less than 1% report test preparation as being a "popular" benefit. But 73% report that this service is "minimally" or "not popular" at all. For alumni organizations with more than 200,000 alumni, one in three aren't even offering this service.
What's the issue with test prep services? It's not that alumni don't need help in prepping for a GRE, GMAT, LSAT or any other admission test. The problem usually involves a lack of value with how the benefit is served up. Many organizations simply offer a discount with online test prep companies (like Kaplan as an example.) And usually the discount is typically 10% off, and the alumni organization receives a commission on each transaction. One of the problems is that public sites like RetailMeNot and Coupons.com offer 20% discounts on Kaplan test prep services. If an alum is going to spend $2,000 for a self-paced MCAT test prep course, you can do the math to figure out why your discount offer is rarely, if ever used. But even among larger alumni organization that offer on-site test prep and practice tests, they similarly report that this benefit is the least popular among their alumni.
On an important side note as it relates to offering your alumni any "benefit"…If your primary purpose of offering a "benefit" is to generate revenue, great. (I like revenue generating programs.) But don't promote such programs under the guise of it being a "benefit." They are NOT benefits! To be a true benefit, it must deliver value, and be a better deal than what masses can get. And be upfront about the revenue sharing arrangements you have with any vendor. I'm an advocate for full disclosure in such cases. It helps establish your authenticity, and may cause you to think twice about promoting "benefits" that only benefit your organization.
Second to the bottom: Career Workshops
Also at the bottom of the popularity scale are career related workshops. Now pay attention here… I'm not saying that at all schools have a bad experience with career workshops. Many have developed successful career workshops, but statistically, only 36% of all institutions report career workshops are "very popular" or "somewhat popular." Even for institutions of 250,000 alumni or more, only a slightly higher percentage (40%) see career workshops as being popular among their alumni. We're not measuring the impact of the career workshops on alumni that do participate, only that fewer alumni participate.
The Winners:
Second to the top: LinkedIn Communities
Just over 73% of all alumni professionals rate their LinkedIn community as popular. For larger organizations, that jumps to 90%. Only 8% of alumni organizations don't have a LinkedIn presence.
LinkedIn is clearly one of the most disruptive technologies to hit alumni relations. It has, along with other social media tools, replaced many services that were once the exclusive domain of alumni relations.
Consequently, I'm afraid that some institutions tend to ignore LinkedIn instead of fully embrace it. But like it or not… it's here to stay, at least for the foreseeable future. It's the tool your alumni are using to network, showcase their skills, look and apply for jobs, build their brand, and share their knowledge. And it's an excellent tool to show your value to your alumni, and keep them engaged with your organization.
I see too many schools that have set up their alumni LinkedIn community but unfortunately use the Ronco approach: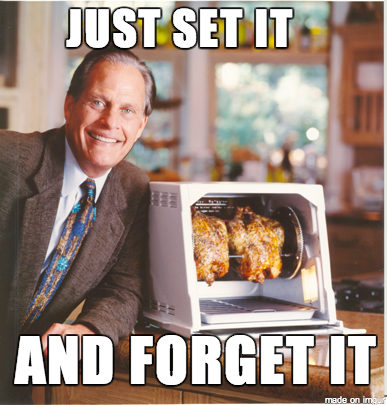 They aren't posting frequently and keeping their alumni engaged in these communities. For those who struggle with their LinkedIn community, check out this LinkedIn document created especially for alumni officers. It offers a few tips on how LinkedIn tools can expand your reach, create a targeted list and leverage your alumni group to its fullest potential.
#1 Career Services Benefit: Networking Events/Mixers
The career services related benefit that alumni professionals rate as most popular among their alumni is networking events/mixers.
No matter how we slice and dice the data, these events are the clear winner in our popularity contest. Overall, 77% of alumni professionals report that their networking events mixers were the most popular career service benefit they offered. For organizations with 200,000 alumni or more, that number jumps to 92% who rate these events as popular.
For all groups, roughly 31% considered these programs as "very popular" with their alumni. Only 11% of respondent institution aren't holding at least one annual networking/mixer event.
Note of Caution #1: As a data geek, I want to add a small note of caution about this particular survey question. Some institutions combine their social mixers with business mixers. Consequently I have concerns that we lumped both "networking events" with "mixers" together on this survey question, and may have caused a small degree of confusion. Social mixers and business mixers can be different things on many campuses. The next VAESE survey (being sent out in November) will be more specific about having respondents consider only those types of events that are specifically related to career services. But clearly the implication of the question was to rank benefits related to career services. I'm confident after reviewing all the responses that a vast majority of respondents understood the question and answered appropriately.
Note of Caution #2: The Gap Between Large and Small Alumni organizations
Alumni organizations with 200,000 alumni or more are few in number, but greater in influence and resources. While our study reflects the results of all sizes of alumni organization, when it comes to career services benefits, larger alumni organizations are in a different world. Because they have significantly more resources, they can deliver better results for many career service benefits than smaller organizations. Here are just a few examples.
Career Counseling: Overall, 39% of alumni professionals rate this service as either "very popular" or "somewhat popular." But three out of four (75%) of alumni professionals in larger organization rate this service as popular.
Resume Help/Resources for Job Seekers: This is another service that is less popular among smaller organizations, and much more popular at bigger schools. On average, only 48% of all alumni organizations rate this service as popular. But for larger schools, that number jumps to 78%.
Job Listings: 48% of all alumni organizations rate their job listings as popular with alumni. For larger organizations, that rates jumps to 63% that rate it as popular. This could be a function of resources dedicated to keeping it up to date.
I'm interested in hearing from you. Do these numbers reflect your organization's experience? What additional information would you like to know, but is missing from this data? Please comment below.
---
Check out our other popular articles about alumni relations & engagement:
Alumni Phonathons: Not Dead…Yet
The 3 Highest Rated (Not Lame) Alumni Benefits
The Digital Generation Gap in Alumni Relations
3 Bad Habits in Alumni Relations
Why Your Old-School Marketing Is Killing Alumni Engagement
Stop Using These Metrics to Measure Alumni Engagement
New White Paper Compares Alumni Staffing & Budgets
The new VAESE Alumni Relations Benchmarking Survey will be sent to you in November. Click here to download the 2016 results.